Blue Willow China
When I was six, my mother bought me a miniature China Tea Set
--cups, saucers and teapot--made of matching imported China, unlike the unmatched China sets we used at our mealtime. When I opened the China tea set, I loved the look and feel of the cool smooth surface, but as my fingers glided over it, I had no idea of its significance to my life and the value it would be to my mother's homeschooling plans--my global education, a college scholarship and professional success.
Rosa Parks Booking Photo
Montgomery Bus Boycott
The year I received the China tea set was
1955,
the year Rosa Parks went to jail for starting the Montgomery Bus Boycott
.
At the age of six, I was vaguely aware of Rosa Parks and Dr. Martin Luther King, Jr. I did not hear of the civil rights activists or the Civil Rights Movement from teachers in my segregated school. My teachers seemed wary of such discussions. I later learned from my parents that the teachers may have been warned not to talk about the
Civil Rights Movement for fear that they may start trouble among the student body.
Thurgood Marshall (center)
Brown v Board of Education
I learned about
Jim Crow laws, the
Civil Rights Movement
and the names of civil rights activists like Rosa Parks from hearing their names in conversations between my mother, father and Bigmama when they talked about current events like the Montgomery Bus Boycott and
Brown v the Board of Education
.
Rosa Parks
Anti-Rape Activist
At the time, though, they probably had no idea of Rosa Parks' involvement in the
protection of black women from rape and lynching from the ills of Jim Crow laws and tradition in the South
. I didn't fully understand what Jim Crow laws were until much later in my life. I just knew they were bad for black people and people who were not white. This was confusing to me at times because none of the relatives I knew personally were white, though there was talk in the family about them. And many relatives I knew did not look black. I was too young to know the difference.
When I was six, I knew Rosa Parks and Dr. Martin Luther King had something to do with fighting Jim Crow laws during the Montgomery Bus Boycott.
Jim Crow laws affected everything about our lives and the schools I attended until I graduated from high school; and later getting into a college of my choice. But Jim Crow laws did not affect the global education my mother presented to me with my toy China tea set and other tools
, such as an erector set for building structures I imagined. She also discovered meditation,
which
she adapted to her global education.
My mother would use that China tea set to teach me about a world outside of
Jim Crow
, under which my ancestors had lived for nearly a century at that time and my family would live for years to come.
When
I saw my mother sitting on the porch staring into the distance, almost trance-like, I knew she was in meditation upon something beautiful or strange or realizable. I learned later that the something she was in meditation upon was me.
Living within the circumstances of
Jim Crow laws
did not give a person an excuse to do less than the best they could offer, my mother always told me.
"Even the house you live in," she said. "Make it a home. Make your home the best home you can. Organize it. Keep it immaculate. Decorate it. It's where you live. Respect where you live. Take care of your home and it will take care of you; shelter you, nurture you, be standing when you need it!"
My mother understood what I needed to hear and gave freely and loudly.
From primary school through college education with a lot of homeschooling in between, my mother yelled her demands and threatened me if I did not do the work. And she never complimented me unless I had shown extraordinary skill at something. There were no gold stars for mere participation.
"We will find a way of paying for college," she said. "But you have to try to get a college scholarship to help out. If you don't study in high school with college in mine, I don't know if we should strain to pay for college. Maybe you won't study in college and our money will be wasted.
Maybe you're not college material.
But I won't hold that against you, even though I was smart enough to go to college and would have gone if I had had the chance when I graduated from high school.
"
Learning to accept and appreciate differences in people is global education.
My mother accepted the way other people lived, even if she didn't approve of their lifestyle. "I do not expect others to let me tell them what to think or how to live," my mother said. "Listen but make your own decision based on what you know. And do not follow or be bullied into going into a certain direction just because others do. Do not be afraid of thinking for yourself. And, likewise, do not bully others into thinking like you."
Like you're doing me now, I thought, but had sense enough not to say it out loud.
My mother encouraged me to learn another language. She had learned Spanish when she began her supervisory career in food services and wanted to teach me Spanish so that she could practice her language skills before going off to work and giving orders.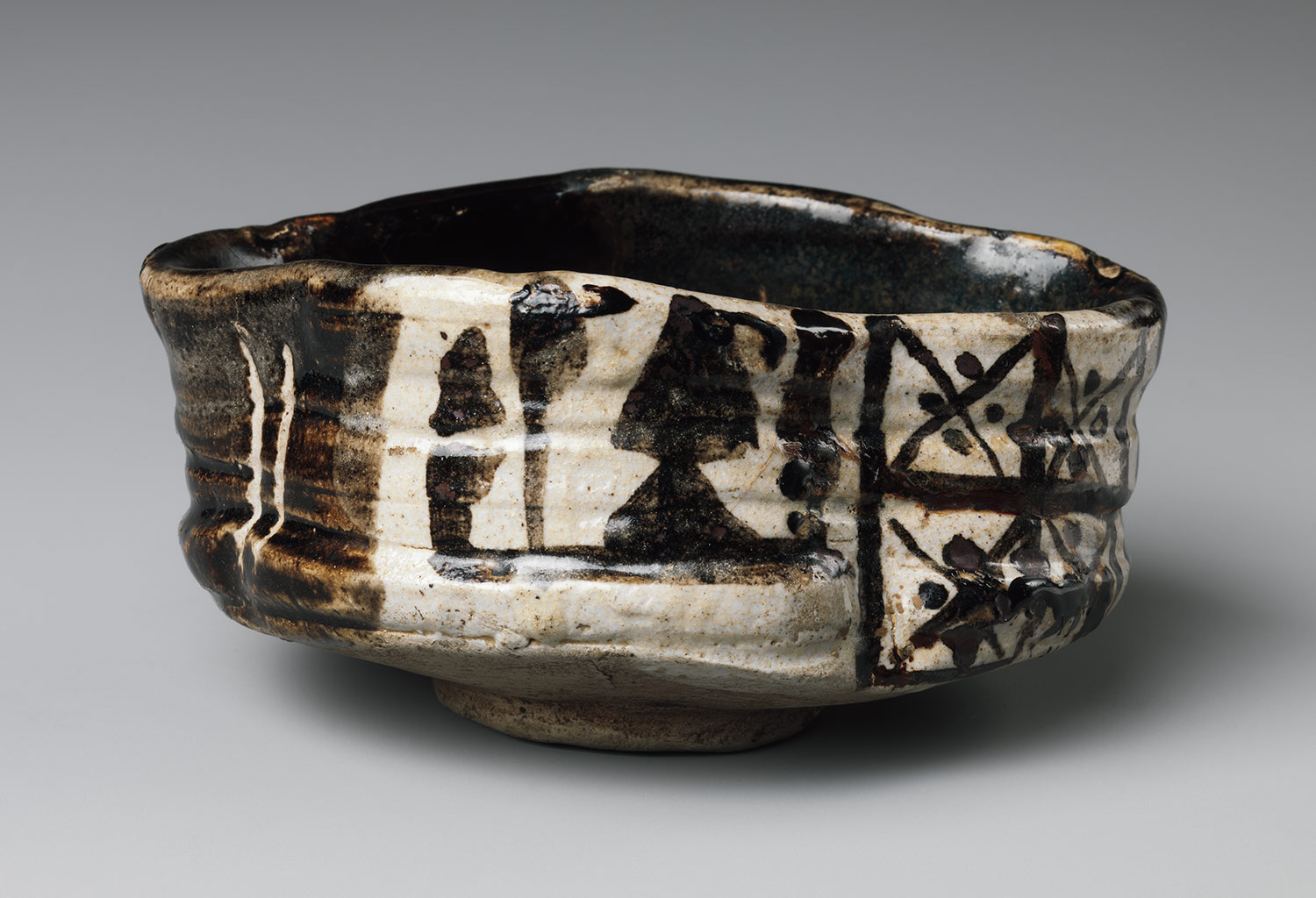 Image: E
arly 17th century Japan Stoneware
Momoyama period (1573–1615),

Metropolitan Museum, New York
In one of our many reference books my mother had purchased over the years, she found items about

the Japanese event, The Way of Tea. Sasaki Sanmi

is,

born in 1893 in Kyoto, wrote t

he

original Japanese classic,

Sado-saijiki, which was translated into English in 1960. My mother found translations, which cover Japanese tea tradition throughout the calendar year with descriptions, poetry and The Way of Tea: Reflections. She was fascinated by all of this tradition and ceremony, perhaps because so much of her African and Native American traditions were a mystery to her.
Admitting to me that she was probably not saying the words correctly, my mother still enjoyed trying to pronounce of the names and words describing the ceremonies. "I would love to learn to speak Japanese," she said. "That way, I would have a better understanding of these rules of the tea.
"Eastern languages are very different from English and Spanish," she said. "It wouldn't hurt, though, if you learned Spanish."

Using my little toy tea set, my mother taught me about the world's fascination with tea, tea traditions, world economies built around tea and legitimate historical political movements named for the beverage, including the Boston Tea Party, one event leading to the American Revolution.
From 1775 to 1783, the Founding Fathers, delegates to the Constitutional Convention, along with the other of their kind, had witnessed America's victory in the American Revolutionary War against Great Britain. Jim Crow laws were not far behind.
My mother
especially loved the Japanese ceremonies, but she taught me about all tea traditions and the people who created them.

Traditionally, powdered green tea is used in the Chanoyu, Japanese Tea Ceremony.
Matcha ceremonial-grade tea is different from other green and black teas brewed from dried flakes of loose tea leaves or tea leaves manufactured into tea bags. Loose tea leaves or those in tea bags are steeped in hot water and then discarded.
The ceremonial tea is ground to a fine power that is made to dissolve in water, which preserves its essence, making its consumption more potent and effective than tea leaves. Although we didn't have the real Japanese tea, we used the tea my mother could afford and the tea she could find. Then, we substituted what we had and pretended.
It is said that using the powdered green tea within the rules of the ceremony makes the five human senses most acute, encouraging high mental concentration, emotional calm and mental composure.
My mother and I did not have the powdered green tea for our tea celebrations, but we read about the power of the tea when certain rituals were performed in conjunction with its consumption. This thinking was certainly parallel to my mother's thinking, in that, it led to control of one's behavior through control of one's own mind.
"Thinking about something is good," my mother told me. "But thinking deeply about something is better." She explained that thinking deeply means rolling it over again and again in my brain and examining thoroughly what was being thought about, not to come up with a better answer, but to come up with a better understanding of the answer. That was meditation, the same thing I had seen her doing so many times.
Of course, my mother and I did not have Japanese, Chinese, English or any other exotic tea. We used Lipton Tea because it was cheap and available at the corner store. We emptied the tea leaves into the little tea pot of my China tea set
. My mother said the loose leaves made a stronger brew. I didn't really like the taste of hot tea, but I sipped it with my mother--our pinkies pointed toward the sky--because she said I should know about such things. Then, I hosted pretend tea parties for my young cousins and friends. But I didn't bore them with what my mother and I had read about tea, since my friends and I were only drinking pretend tea, not even Lipton, just tap water.

"You can find meaning where there seems to be none," my mother said. "People have been doing that throughout time. Whatever you're doing, do it the best you can. Give it your full concentration. Challenge yourself with every little thing that comes your way; think of them as opportunities. Do all you can with whatever it is that you have or that you are doing."
My mother made ordinary things, like sipping a cup of tea, into something special. Finding meaning in the simplest of things, she taught me how to make my life rich without reference to money.

"What does all of this tea talk have to do with me," I asked, watching my mother prepare my lesson. "Japanese tea ceremonies have nothing to do with us."
My mother saw differently, though.
"You're wrong," she said. "We are everybody.

To learn about us, you must learn about all people. If you leave someone out of your study, you leave out part of your."
~~~~~~~~ My Mother ~~~~~~~~


Littie Nash was one of the great global thinkers. She did not waste compliments on me. She reserved accolades to celebrate real accomplishments, not just because I dragged myself out of bed before noon on Saturday or because I made an 'A' on my report card.
"Some things you have to do," my mother said. "And those things pass, not without notice, but without an all-day hullabaloo."
To support me, my mother sponsored my piano, ballet, tennis and swimming lessons, dance performances, recitals, literary and classical music club memberships, summer camps, out-of-state vacations, school trips and science fair exhibits, still managing to squeeze out of our tight budget money for the dentist to install braces on my teeth.
It took a great deal of courage and imagination during the era of Jim Crow laws for my mother to give me what she thought I needed. Jobs for African Americans were scarce and good jobs were mostly nonexistent for them. Black men were economically and politically marginalized and black women were publicly disrespected on a routine basis.
I
n the 1990s, I wrote columns for Hearst and Knight-Ridder newspapers--stories from my childhood with my part-Comanche grandmother during the Civil Rights Movement. Texas A&M University published a collection of the stories about which
Robin Fruble of Southern California said:
"Every white person in America should read this book! Sunny Nash writes the story of her childhood without preaching or ranting but she made me realize for the first time just how much skin color changes how one experiences the world. But if your skin color is brown, it matters a great deal to a great number of people. I needed to learn that. Sunny Nash is a great teacher," Fruble said.
Sunny Nash is an author, producer, photographer and leading writer on U.S. race relations. She writes books, blogs, articles and reviews, and produces media and images on U.S. history and contemporary American topics, ranging from Jim Crow laws to social media networking. Sunny Nash is the author of Bigmama Didn't Shop At Woolworth's (Texas A&M University Press), about life with her part-Comanche grandmother during the Civil Rights Movement.
Sunny Nash's book is recognized by the Association of American University Presses as essential for understanding U.S. race relations.
Nash's book is also listed in the Bibliographic Guide for black studies at the Schomburg Center for Research in Black Culture in New York; and recommended for Native American collections by the Miami-Dade Public Library System in Florida. Nash uses her book to write articles and blogs on race relations in America through topics relating to her life--from music, film, early radio and television, entertainment, social media, Internet technology, publishing, journalism, sports, education, employment, the military, fashion, performing arts, literature, women's issues, adolescence and childhood, equal rights, social and political movements--past and present—to today's post-racism.
©
2019 Sunny Nash.
All Rights Reserved Worldwide.