Rosa Parks, Sojourner Truth, Harriet Tubman and Ida B. Wells created a century-long movement (1850s-1950s) against Jim Crow rape and lynching of black women and girls.
Martin Luther King knew the value of female supporters to the efforts of civil rights.
Rosa Parks
and other women active in the Civil Rights Movement
worked closely with
the NAACP, much of whose work centered on the investigation of
mob rapes and lynchings of black women and girls.
Some experts say that the great northern migration was caused, in part, by thousands of reported and unreported rapes and lynchings of black women and girls in the south. A
t home,
hu
sbands, brothers and fathers were ashamed of their helplessness to protect their women from this violence. Some black men were intimidated by the unjust legal system. Other black men knew they would lose their jobs if they reported a crime against a white man. Still other black men blamed the black woman for sexual offenses against her body, and made her the target for even more abuse at home, influencing young black men's oppressive attitudes of toward women of their own race.
If home was not safe, where could a black woman or girl feel safe?
While white women also were intimidated and abused at home and work, the story of the black woman and other women of color in America shows that much of mainstream society viewed the womanhood of
black
and other women of color
as worthless, rendering them unworthy of consideration, civil rights or personal dignity.
But somehow, black women and other women of color withstood it all, beginning in the early decades of the nation with female activists like Sojourner Truth and Harriet Tubman, Ida B. Wells, Rosa Parks and many others.
Truth made t
he speech eight years before her monumental meeting with President Abraham Lincoln at the White House to discuss the issue of enlisting black troops into the Union Army against the Confederacy, which Lincoln eventually accomplished.
Two years later, Union victory over the Confederacy ended the Civil War and freed U.S. slaves under the order of the president, who was assassinated soon after. 
Truth's life and message spoke to the heart of civil rights, the protection of black womanhood in the same voices Rosa Parks would use more than one hundred years later.
Sojourner Truth's significant anti-slavery activism in the 1850s-60s inspired and instructed future generations before Rosa Parks' anti-Jim Crow movement one hundred years later.
Let us not forget Harriet Tubman.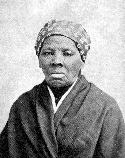 Harriet Tubman
Union Soldier, Spy
& Abolitionist
Underground Railroad
National Historic Park
National Parks Service
Harriet Tubman was
born
a slave
in 1822
on a Maryland plantation.
Throughout her childhood, she was
b
eaten and brutalized by various slave owners, one of which inflicted
upon her
a near-fatal head injury, causing severe trauma and symptoms throughout the remainder of her life. But nothing deterred her from her calling to bring freedom to her people, helping thousands to escape slavery through the Underground Railroad. During the Civil War, Tubman was an armed Union soldier and spy.
Harriet Tubman died at age 91 in 1913, the year Rosa Parks was born.
In the 1890s, journalist,
Ida B. Wells
(1852-1932), protested lynching and rape of black women, which was still at the heart of civil rights.
Anti-lynching Crusaders
NAACP Button
1900
Ida B. Wells,
an Anti-lynching Crusader, within the National Association for the Advancement of Colored People (NAACP), raised protests against lynching, urging the Legislature to confront the problem in 1918 in a bill intended to punish state, county and local officials for not ending lynching in their locales and for failing to create an atmosphere to end the practice altogether. Although the House of Representatives passed anti-lynching laws three times, none of the efforts passed in the U. S. Senate. F
inally
o
n
Monday, June 13, 2005,
four months before
Rosa Parks died
on
October 24, 2005,
t
he Senate apologized
for not passing anti-lynching laws that were encouraged by Ida B. Wells
.
Ida B. Wells
Author, Journalist,
Scholar, Social Activist
In
Southern Horrors and Other Writings: The Anti-Lynching Campaign of Ida, 1892-1900

,
Ida B. Wells-Barnett
exposed lynching
as a method
to halt and further discourage economic growth of African Americans and other ethnic groups, as well as to support the erroneous notion of white supremacy
.

Wells was only years old when the monumental Supreme Court decision, Plessy v Ferguson sanction separate but equal in the United States and, thereby legalized segregation of the races in all aspects of American life, public and private.
In her book,
Wells demonstrated that black women, who had
become easy targets for sexual predators during slavery, were equally vulnerable to violent attacks after abolition. Because many
b
lack men were dependent on the mainstream community for jobs, they were unable to defend their women without stiff consequences. Upon this sordid story providing the background for her own life, Wells built her career as a journalist, writer, scholar and social activist.
R
acially motivated sexual assaults have been told and retold in books and oral accounts throughout American history, starting during slavery. At the end of these frightening stories, posses seldom rode out looking for rapists of black women and girls.
Between 1882 and 1968 more than 150 black women and girls were lynched in the United States, some for no reason other than entertainment; some for minor crimes; others for trying to protect their children.
Woven into the civil rights battles that Rosa Parks fought for were the protection of black woman from verbal, physical and sexual abuse, and assaults by men hiding under white sheets and behind Jim Crow laws, a legal system that protected white sex offenders into the mid-1960s, a system against which black women had no insurances from the law or comfort in the protection of society.
Laura Nelson shot the sheriff.
Photo: Laura Nelson and her son lynched
1911
from a (now demolished) railroad near Okema, Oklahoma
In 1911, Laura Nelson tried to protect her son from a posse accusing him of stealing. Certain they had come to lynch him, t
he mother knew the posse would not listen to her defense of her son.
D
uring the fierce struggle that took place outside
Laura Nelson's
home, fighting for her life and the life of her son, she shot the sheriff. The posse took her and her son from their home and placed them under arrest. A crazed mob formed outside the jailhouse where she and her son were being held in a cell on multiple charges. A mob of 40
men gathered outside the jail, broke inside overtaking the jailer and taking th
e mother and son
from their cell.
Outside, Laura was raped multiple times. Afterwards, s
he and her
son were taken to the (now demolished)
railroad bridge over the Canadian River outside Okema, Oklahoma, in Okfuskee County, where they both were
lynched.
But not for justice--for the excitement and entertainment of it all.
Lynchings were popular outdoor events, drawing large crowds of men, women and children. Photographers commemorated lynching events on post cards for sale to audiences that sometimes bought multiple copies of lynching photo postcards to mail to family and friends in distance places.
That's just the way things were in Laura Nelson's world.
The dreadful prospect
of r
ape, followed by a rope became horrifying facts of a black woman's reality during the
Jim Crow era
. Language in the
laws did not
literally
sanction rape. But
at the time,
attitudes of some
southern lawmen toward
black women
who tried to bring legal charges against
sexual predators were laughed out of court. Instead of justice,
retribution against the complaining black woman, her family and her community was certain.
Photographic documentation of lynchings bore witness
to what so many black women and other women of color feared and fought to change.
The 1911 Laura Nelson lynching occurred two years before Rosa Parks was born and served as a continual reminder to Rosa Parks and every other black woman and girl in the nation of the possibility that this same thing could happen to them.

Fear entangled with frustration and courage were the driving forces of the civil rights reform that Rosa Parks would tackle some forty-four years later trying to bring an end to lynching and discrimination in America,
and may have contributed to Rosa Parks taking the
1944
Recy Taylor case.
Photo: Rosa Parks & E.B. Nixon
Learning about the gang rape of Alabama wife and mother, Recy Taylor, by seven white men on her way home from church in 1944 led the Montgomery NAACP president, E.B. Nixon, to ask his best investigator to look into the matter. That investigator was 31-year-old
Rosa Parks
(1913-2005)
, an
anti-rape crusader specializing in sexual assaults against black women in Jim Crow Alabama. By taking the Recy Taylor case, Parks launched a movement aimed
directly
at sexual assault against African American women and girls.
There is no evidence that Rosa Parks personally experienced sexual assault at the hands of a white or black man. However, she was a beautiful black woman in a racist environment where the rape of white women was considered legitimate rape and the rape of black women was not. It is probable that Parks was assaulted--if not sexually--verbally and shown casual disrespect at some time in her life under Jim Crow laws in Alabama.
Letter Rosa Parks to Alabama Governor
Chauncey Sparks
From: Scottsboro Stories
Rosa Parks was u
nable to win the Recy Taylor case.
Other victims remained silent about bringing rape charges against white men because they knew juries would not consider their sexual violation a legitimate rape. In the opinions of the white juries, only white women could be
legitimately
raped.
Further, black women were ashamed having their predicament publicized, fearing ridicule in their own communities and expecting physical harm to their families.
After the rape, Recy
went public to the sheriff.
H
er
father, f
earing for the lives of his daughter, her husband and their -year-old daughter,
did what a father could do to protect them. He perched in a tree outside Recy's home with a shotgun, the only insurance against racist violence he could provide his daughter.
Still,
Recy Taylor's home was bombed.
Eleven years after the Recy Taylor case,
Rosa Parks
sparked the Montgomery Bus Boycott. After more than a year,
the Montgomery Bus Boycott
dismantled Jim Crow laws, the legal system that permitted racial discrimination in housing, education, services, legal representation, voting, employment, public transportation, accommodations, and unchecked sexual abuse of American black women and girls and, to a large extent, any non-white woman of a disregarded ethnic group. Sexual affronts, offenses and abuse did not end with the Montgomery Bus Boycott, which earned Rosa Parks the title,
Mother of the Civil Rights Movement. However, resulting legislation led to further legislation, which did bring to an end the routine rape and lynching of black women, closing a very sad chapter in American history.
The last recorded lynching of black woman in the United States was in 1957, the year following the Montgomery Bus Boycott.
When I was a little girl,
I never knew a man or woman who was lynched. T
here were stories, though, in my own neighborhood of powerful men going freely into certain homes
and raping females within the household
with the male head of the household sitting on the porch, helpless to protect his wife or daughters. This was the ultimate in violation of a family's civil rights, deliberate intimidation of a community and the very heart of the civil rights struggle taken on by Rosa Parks.
Rosa Parks walked in the clearly laid path of Sojourner Truth, Harriet Tubman and Ida B. Wells-Barnett
who meticulously created the foundation for fighting violence against women of color.
Sunny Nash
Author-Journalist
Sunny Nash, former nationally syndicated newspaper columnist, is the author of

a nonfiction book

about life before and during the Civil Rights Movement with her part-Comanche grandmother,
Bigmama Didn't Shop At Woolworth's
, selected by the American Association of University Presses as a Book for Understanding U.S. Race Relations, and recommended by the Miami-Dade (Florida) Public Library System for Native American Collections.
Sunny Nash is an award winning writer and three-time winner of
Arts Council for Long Beach Professional Artist Fellowship Awards: 2003, 2009 and 2014-15. Her most recent
Arts Council for Long Beach award is a 2016-17 grant for cultural heritage preservation programs, How a Child Build Legacy, designed to encourage young students to prepare archives of their accomplishments and plan for their future achievements.
Sunny Nash earned a Bachelor of Arts in Journalism & Mass Communication, Texas A&M University; Postgraduate Media Studies Certificate, Cronkite School of Journalism & Mass Communications, Arizona State University; Postgraduate Diploma, Instructional Technology, University of California, San Diego; Constitution Studies, James Madison's Montpelier Center for the Constitution; and Postgraduate Digital Literacy Certificate, Simmons College Graduate School of Library & Information Science, Boston. Sunny Nash's international studies include Intellectual Property Law, World Intellectual Property Organization Academy, Geneva, Switzerland; Diplomacy, Culture and Communication, United Nations; Research Methodology, Digital Preservation, Online Archival Information Systems, University of London; and Archival Data Governance, National Archives of Australia, Melbourne.
©
2017 Sunny Nash.
All Rights Reserved Worldwide.
www.sunnynash.blogspot.com