Sunny Nash Books, Publications, Contributions and Works

Bigmama Didn't Shop at Woolworth's is a book that developed from syndicated columns I wrote for some Hearst Knight-Ridder Newspapers in the 1990s. The columns consisted of vignettes from my childhood with my grandmother, Bigmama, in the Jim Crow South and particularly in Central Texas during the 1950s and 1960s. In
addition to covering my childhood, Nash includes impressions and her grandmother's interpretations of the protests leading up to, during and following the Montgomery Bus Boycott, initiated and conducted by Rosa Parks and Dr. Martin Luther
King, Jr., against Jim Crow laws in public transportation policy.
more...
Untold Legacies: A Pictorial History, Black Long Beach 1900-2000 & Beyond
Foreword by
Marie Treadwell
 
The volume covers development in the black community in Long Beach, California. T
here exists a history of struggle in areas of education, housing, employment and representation. In this volume, the struggle for human dignity is addressed through professional, organizational, religious and family histories, complete with photographs and other unpublished documents.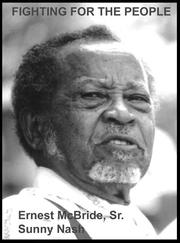 Ernest McBride


Fighting for the People
Sunny Nash
Ernest McBride, Sr.
Fighting for the People is about Ernest McBride, Sr., born in the heart of the Mississippi Delta. He grew up in a family with strong convictions. He lived his life as his parents did, proving his beliefs on a daily basis, constantly reassessing his own motives for defying the status quo, while conducting himself honorably and legally, and encouraging others to do the same.


Custom Search
Edited by Sunny Nash
Foreword by Carolyn Smith Watts
Preparation, focus and faith were the tools these Long Beach pioneering women used to set their lives on track and to have the courage to pursue dreams.
These courageous women, who made a difference in the history of Long Beach, California, did not see themselves as courageous, however. They simply saw themselves as hardworking and willing to persevere.
more...
Ned Peterson Family Tree
& Legacy
African-American Lifeways
East-Central Texas: The Ned Peterson Farmstead Brazos County, Texas
The Peterson family legacy revealed itself to me when the State of Texas commissioned me to be part of an excavation and investigative team to study Ned and Elizabeth Peterson's farm site. The site is among the first land to be purchased by African Americans in Southern Brazos County in central Texas, about 100 miles northwest of Houston. Photographs reproduced by Sunny Nash will be on display at the George Herbert Walker Bush Presidential Library to commemorate the 75th birthday of College Station, Texas.
Amgen Bicycle Race Long Beach
Sunny Nash, photographed the art and artists for SPIN, an exhibition book of art pieces designed in conjunction with the 2007 Amgen Tour of California Bicycle Race. To commemorate the finishing festivities of the race, professional artists used bicycle parts to create an exhibition, which was installed along the streets of Long Beach, California. Nash also designed the SPIN exhibition book. Spin cover was designed by Joe Gutierrez.